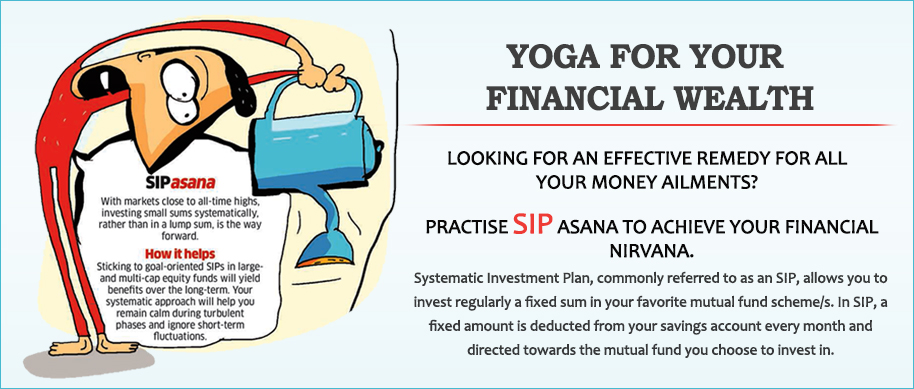 Practicing yoga daily keeps our health on track, while a systematic investment plan helps us keep our financial health on track. It allows us to see the bigger picture and set realistic and achievable goals. With a proper financial plan, taking big financial decisions become easier and compatible.
Yoga and investments have a lot of things in common and you could incorporate certain yogic techniques in your financial life to beat the stress associated with it.
1. Discipline 
Only if you are fully committed while doing yoga you will be able to reap rewards. Similarly, a disciplined and regular approach in investments can help you achieve your financial goals. Starting a disciplined investment through SIP even of a small amount in a lifelong journey would help in creating a big corpus for your sunset years.
2. Practice 
You will not become an expert at yoga overnight. Practice makes you perfect. Similarly an inexperienced as well as a seasoned investor learn and gain knowledge with respect to the field of investments as much they can. Right knowledge about the behavior of a particular asset class might also help to increase your risk appetite.
3. Patience 
With yoga, one cannot expect results overnight. Similarly one cannot expect to make money in a month. Warren Buffett once quoted, "Someone's sitting in the shade today, because someone planted a tree long ago." It is never too late to start investing, but the earlier, the better. If you want to enjoy the shade of a big tree, you need to plant the seed today!
4. Lifelong investment 
Yoga is a lifelong investment to achieve healthy mind, body and soul. In a similar manner, systematic investment towards the identified goal such as retirement, will help you achieve those goals in their defined time period. 
5. Focus 
While performing asanas in yoga you must focus on your breathing or else it could be detrimental. When it comes to investments, many people at some point experience equity market volatility and end up withdrawing their investment. By doing so you are locking losses and missing out on future potential profits. 
By adopting a focused investment approach and gearing your assets towards meeting your financial goals, the day-to-day fluctuations will not affect your plan. For your long-term investment strategy to work, you need to stick to your investments.
Conclusion:
Investors who seek quick and easy returns on their investments are generally not successful. By understanding the process behind long-term investing, a mature and patient investor can avoid excess risk and become financially successful. As long as your money is working hard and taking you towards your pre-decided goals, there is no reason to look anywhere else. Just focus on your goals.
Source:Moneycontrol.com