Earlier this month, the Motor Vehicles (Amendment) Bill 2019 was passed to update the existing rules and fines to make Indian roads safer.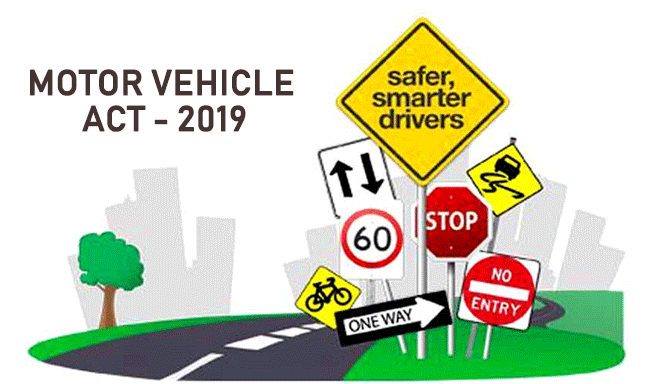 The bill, which will replace the 30-year old law, aims to overhaul the country's transportation laws by addressing crucial issues such as
Road safety

Reducing deaths due to road accidents

Imposing stiffer penalties on violation of rules and

Weeding out corruption thereby transforming India's road transport system.
The applicant is a minister or an MP, he or she will receive licence only after passing online tests, making the application process transparent and easy. Obtaining a Driving LICENCE (DL) will get tougher if you don't have adequate skills as driving test will become technology driven, reducing human interface to curb corruption.
Currently, licence testing is manual and untrained people also get licence. The proposed changes in the Act gives power to the Center to make rules for the authority that issues licences. A national register of driving licence will be created that will comprise licence data from throughout the country to make transfer of vehicles across states easier and weed out fake DLs.
An automobile manufacturer will have to recall motor vehicles in case of a defect that causes damage to the environment. Road contractors may need to be careful as they can be penalized for faulty road designs. Currently, there is no such provision under the law.
Here are some of the key features of the new proposed law:
| | | |
| --- | --- | --- |
|  Section/ Offence |  Old Penalty |  New Penalty (Minimum) |
| Drunken driving | Rs 10,000 | Rs 10,000 |
| Not wearing seat-belt | Rs 100 | Rs 1000 |
| No helmet | Rs 100 | Rs 1000 (and subsequent disqualification of driving premit for 3 months) |
| Triple Riding | Rs 100 | Rs 2000 |
| Overspeeding | Rs 400 | Rs 1,000-Rs 2,000 |
| Racing | Rs 500 | Rs 5,000-Rs 2,000 |
| Dangerous Driving | Rs 1000 | Rs 5,000-Rs 2,000 |
| Driving without insurance | — | Rs 2,000-Rs 2,000 |
| Driving despite disqualification of license | — | Rs 10,000 |
| For not giving way to emergency vehicles (Ambulance) | — | Rs 10,000 |
| Traffic violations | Rs 100 | Rs 500 |
| Disobeying authorities | Rs 500 | Rs 2,000 |
| Driving without license | Rs 500 | Rs 5,000 |
| Driving unauthorised vehicle (vehicle without licensed registration) | — | Rs 5,000 |
| Overloading of goods vehicles | Rs 2,000 and Rs 1,000 per extra tonne | Rs 20,000 and Rs 2,000 per extra tonne |
| Violations by cab aggregators (on licensing) | — | Rs 25,000 to Rs 1 lakh |
| Violations by cab aggregators (on licensing) | — | Rs 25,000 to Rs 1 lakh |
For offences committed by enforcing authorities: twice the penalty of the violation
Compensation on road accidents:
Minimum compensation for hit and run cases was hiked from Rs 25,000 to Rs 2 lakh in case of death, and from Rs 12,500 to Rs 50,000 in case of grievous injury.
Traffic to be monitored:
Transport Minister Nitin Gadkari said that violation of traffic rules will be monitored by an intelligent traffic system.
Cab-Aggregators In The Bill
Regulating the guidelines for cab aggregators like Ola and Uber, under the new bill, cab services which will get licenses from state governments. These will be recognised as "digital intermediaries" or "transport aggregators" that are defined as marketplaces allowing passengers to connect with a driver for moving from one place to another.
Till now, the law did not recognise cab aggregators. Adding the word 'aggregators' in the Act will give power to the Centre to frame guidelines for these companies and make them more compliant.
The central government will issue broad guidelines from time to time for states to rely on to frame their own rules to regulate the industry, eliminating the ad-hocism policies adopted by some states for these firms.
The aggregators will also have to comply with the provisions of the Information Technology Act, 2000, that means complying with data storage rules to protect the identity of users.
Overload of passengers will also be fined (as mentioned above)
The bill in the future is hoped to prevent over-charging customers with surcharges during peak traffic hours or other occasions of disruptions (like rains or strikes). More changes like drivers' audit to promote competition and safety of the passengers are also hoped to be added to address concerns of passengers.
Cashless treatment for accident
The Centre is to develop a system for cashless treatment of road accident victims within the 1 hour after a traumatic injury, where there is the highest likelihood of preventing death by providing medical care. The bill will also prevent harassment of citizens who come forward to rescue accident victims.
Source: livemint.com, goodreturns.in